This!
"You can't do what I do,
but I can't do what you do either.
That's why we are both important to the plan of God."
This quote from Mother Teresa, heard by my friend Fr. John Cusick and shared this morning on his Lenten reflections Facebook post, reminds me, firstly, that there are so many things that I cannot do. I cannot sing, speak Arabic or Spanish, wire electricity, move mountains, provide hospice care, trade bonds, nurse a baby, or climb a high ladder.
But there are also real gifts that I do have. There are many things that I do really well — write, edit, teach, laugh, encourage, walk, dance, paint, and advocate for justice.
When I was a kid, we had a poster in the kitchen, something like: 'You are beautifully made. God doesn't make junk.' I believe it was a contemporary version of the Psalms: 'You are beautifully and powerfully made." This poster always made me feel good. Because, you know, sometimes we all feel worthless. But if we're made in the image of God, we can't be all bad. And I do believe God was so happy when God made us. God said, 'wow, this is good,' not just when the great saints, like Mother Teresa, were made, but when you and I, ordinary saints, were made. That warms my soul.
See, every day is a chance to start anew, to take ordinary actions in this extraordinary moment in history. Write the new story. Find the new way. Seek higher ground. Unite rather than divide.
And in telling your story, choose to emphasize your gifts and the talents of those around you. Do not belittle yourself. Or bully those whom you perceive as weaker. The other day when the boys I teach were gossiping a bit cruelly, I reminded them, "Do not be like vultures, eating at the tragedy of others." I know it's a graphic image but mean-spirited gossip is like that — a bit of a foul feast. And the boys paused when I gave them this image and I hope that they asked themselves whether they were dining on roadkill or stopping like a Good Samaritan to help some fellow animal in need.
For we are only human animals. In our shared humanity, we can find and celebrate our own gifts and the gifts of others.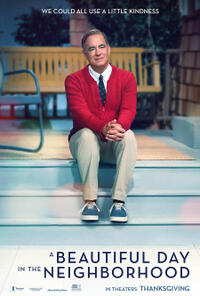 After seeing A Beautiful Day in the Neighborhood the other day, I was inspired by Fred Rogers and told a third grader C. who was struggling with a grammar problem, "You've got this. You're special."
"I hope so," C. replied, a bit indignantly, as if it was so obvious how special he was. It made me smile. I hope today finds you smiling at the wisdom and gifts of those around you, too, including yourself.